Share on Facebook
Tournament of Kings Las Vegas ShowPosted By Alexander Robinson III - 08/05/10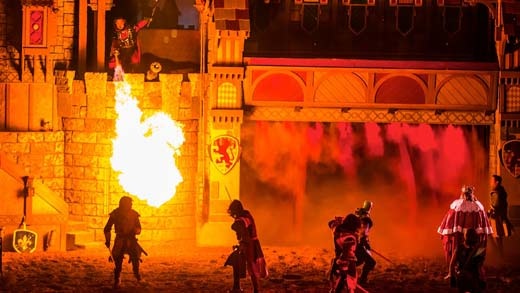 The action, the anticipation, the edge of your seat experience. You will get all of this and more when you attend the Tournament of Kings show at the Excalibur. The show is both a Las Vegas family and dinner show. Probably the best dinner show in Las Vegas. It's a great production to see with the whole family and enjoy an awesome meal while the action unfolds right in front of you!. The jousting and realistic sward fights draw gasps and cheers from the dinner show crowd as the action picks up.
Tournament of Kings is a perfect show for those who are fascinated with the medieval times of kings, knights, lords, and maidens. While you sit back and enjoy your meal (that you have to eat with your fingers!), you'll get lost in the action taking place and almost feel yourself back in the times of kings and knights. This show is truly like no other on the Las Vegas strip. It is one of the most unique shows that you'll ever see!
To find out more information on the and purchase your ticket to this Las Vegas dinner show and family show, you can click on the orange BUY NOW button at the top of the page.