Share on Facebook
Where to watch NCAA Tournament in Las Vegas | 2018Posted By Mike Young - 03/15/18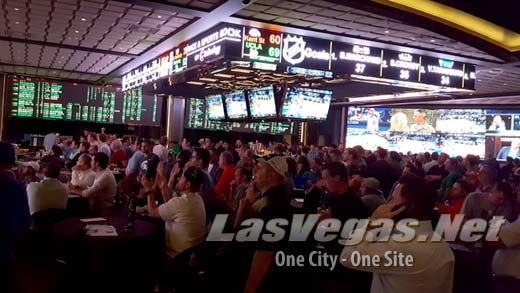 Mad about basketball, welcome to basketball fan's favorite time of the year! Where better to celebrate March Madness? You BETcha! Las Vegas, Nevada!
Las Vegas is considered one of the best cities in the world to watch the NCAA Men's basketball tournament. Both locals and tourist flock from all over the world to watch their favorite colleges take the court in hoops (I mean hopes) that their team will be the final team to make that final basket!
In honor of the most loved month of basketball fans everywhere, LasVegas.Net has prepared special for you, a list of only the finest, most entertaining March Madness viewing parties and menus for the 2018 NCAA tournament in Las Vegas.
FREMONT HOTEL-CASINO
Catch college basketball at Fremont's March Hoopla viewing parties at the Fremont Event Center happening on Thursday, March 15 through March 18. Admission is free and doors open at 8:30 a.m. Visitors can also enjoy delicious food and drink specials, including:
Whole pizza $10
Six-piece chicken wings for $6 and ten-piece chicken wings for $9
Chili bowl with rice $5
Chili bowl with cheese and onions $6
Hot dogs $3
Chili cheese hot dogs $4.50
Prime rib dip with potato chips $7
Nachos $4
Popcorn $2
Bottled water or soda $3
Coffee $2.50
Shots of Patron, Jägermeister, and Fireball $4
GOLD COAST HOTEL-CASINO
Gold Coast will host free viewing parties in the Arizona Ballroom on March 15 through March 17. Doors will open before the first game on each day.
Basketball legends Larry Johnson and Anderson Hunt will be signing free autographed photos for fans inside the Arizona Ballroom on March 16 between 4 and 5 p.m.
HOOPS & HOPS
Get ready to throw in the hoops at The Cosmopolitan of Las Vegas for March Madness when Hoops & Hops! Here you will enjoy a three-day college basketball luxury viewing experience, returns inside the Belmont Ballroom from 7:30 a.m. to 9 p.m., Mar.15 – 17.
Hoops & Hops offers four distinct experiences:
Three-day Open Bar Pass for $475 per person
Thursday and Friday Single Day Open Bar Pass for $225 per person
Saturday Single Day Open Bar Pas for $125 per person
Reserved Seating

HOOTERS HOTEL-CASINO
Experience the college life during March Mayhem from March 15 to March 16. Reserve a table for the entire day for $125 per person, per day at Hooters Casino Hotel. The reserved table includes all you can drink domestic draft beer, all you can eat Hooters wings and Pizza Hut pizza. Hooters is going through hoops to make your March Madness an experience you will never forget.
HUSSONG'S CANTINA
Hussong's Cantina, the Mexican dining experience you will love at The Shoppes at Mandalay Place. $25 beer towers (with a selection between Corona, Modelo Especial, Negra Modelo and Pacifico), $15 pitchers (same selection), $4 pints (same selection) and $20 Corona and/or Corona Light buckets which includes five beers for March Madness. Those looking for non-beer selections can enjoy $20 bottomless mimosas.
IBAR AT RIO
T.V.'s lining the entire space, iBar offers prime accommodations for college basketball fanatics. For $150++, guests receive a food and drink package along with opening seating available throughout the entire weekend.
INTERLUDE
Wisk off to this lively central casino bar for Hoops on the Strip fun and excitement. For $150+ packages will include three drink tickets and a voucher to Eatwell for the choice of one pizza or order of Barbary Dogs.
JOKERS WILD CASINO
Guests can watch the March Hoopla tournament game at Jokers Wild and enjoy Bud Light drink specials during all games between March 13 through April 2.
MAN CAVES AT PLANET HOLLYWOOD
Planet Hollywood Man Caves offer exclusive experience fit for you and your friends to camp out and catch all the action. Located at the London Club space on The Mezz., the Man Caves include:
Complimentary Premium Drinks
Private buffet with high-end food offerings
Exclusive living room viewing space
Giveaways by Miller Lite and Coors Light Models
Broadcast of all four regions

MARQUEE DAYCLUB
Marquee Day club in The Cosmopolitan of Las Vegas,
The ultimate March Madness viewing experience as they broadcast the games on the 40-foot LED screen inside the main room and in premium cabanas where guests can enjoy bottle service. While watching the games, basketball fans can also indulge in Marquee grill menu featuring the Prime Rib Sandwich, Imperial Wagyu Beef Beach Burger, and Herb Grilled Wagyu Skirt Steak. The day club will open at 11 a.m. Mar. 15 – 18.
THE POOL AT THE LINQ
The POOL at The LINQ has all the college tournament action covered with a $99+ package that includes a premium game day buffet featuring Guy Fieri's Vegas Kitchen & Bar's famous wings, giveaways and more. Cabanas can also be reserved for an additional cost.
TREASURE ISLAND
Make a run for the title at the Madness in March college basketball viewing party at Treasure Island. Located in the ballroom, the event begins Mar. 15 at 7:30 a.m. and continues through Mar. 17. There is no charge for admission.
HARD ROCK CAFE
Catch all of the NCAA men's basketball action at Hard Rock Cafe Las Vegas Strip [hardrock.com] with three days of viewing parties! Cheer for college team with a guaranteed seat while enjoying an open bar
CRAZY HORSE III
International model, Khloë Terae, will host a late-night party at Crazy Horse III to celebrate the club's 'Hoops and Hotties' viewing parties.
The party begins on March 17 at 10 p.m.
You heard it at LasVegas.Net first. Experience March Madness Viva Las Vegas Style and create a lifetime of memories!