Share on Facebook
Top 5 Reasons Las Vegas is Different From Other CitiesPosted By Tielman - 08/13/10

Moving to and Living in Las Vegas
Las Vegas sis like the least complicated city in the world. The streets are grids. The casinos want your money. It's hot. There are no secret clubs that you access by knowing somebody who knows somebody. There are no brilliant shortcut streets to shave time off the commute.
With that said, know that Las Vegas is a completely unique city. There is no place like it, anywhere else on Earth. It operates under its own set of guidelines... still simple, but one-of-a-kind. Here, the drinks really are free for gamblers, the air conditioning saves lives, and all the best movie theatres are hidden in casinos.
So print this guide out, grab your most comfortable shoes, and lets go have some fun.
1. It's hot.
Most residents of planet Earth have not experienced heat like this, so here's an experiment you can do at home to better understand Nevada.
Preheat your oven to 325.
Find a fan or a piece of cardboard to use as a fan.
Kneel in front of your oven.
Open your oven and lean in as far as you can. Use the fan to propel air into one side of the oven, so that your face gets blasted with a hot, dry wind.
That's what it's like to step outside in a Las Vegas summer.
Don't panic. Just like heavy snowfall in Wisconsin drives families inside to cozy fireplaces, the blanket of heat that we endure drives us into the air conditioned comfort of restaurants and casinos. It unifies us, gives us conversational material, and makes swimming pools even sweeter. Here are some benefits of extreme heat:
Great suntans, in an hour a day or less
Fast detoxing. Sweating is healthy.
You can achieve any hairstyle you want. There is no water in the air to destroy it.
Some of the good-looking people wear really interesting outfits.
Your air-conditioned hotel room will feel twice as comfortable when you stagger back in from The Strip.
In the middle of winter, the temperature will dip below freezing at night. The days will be anywhere from 40 to 60 degrees.
2. The drinks are free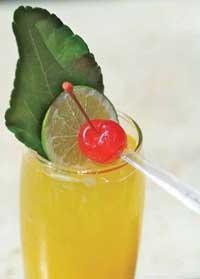 This is true at evey casino in the city, and most of the bars, too. The rule is this: If you are actively gambling, the casino will buy you drinks. It's that simple. Whether you are on the penny slots or the $250 blackjack table, the casino will buy you drinks. The drinks are well-mixed, and contain plenty of alcohol. Sober gamblers don't spend as much as drunk gamblers.
The drinks will be brought to you by cocktail waitresses. There are a few things to remember about service in Las Vegas:
The drinks are free. The cocktail waitress is not.
You don't have to tip. But only jerks don't tip.
Give her a dollar every time she brings you a drink. That's the standard tip, and will ensure that she will return.
Usually, a waitress will take orders from her entire section, then bring drinks, then take orders again. Just be patient.
Don't grab drinks off of her tray, and don't grab her.
3. Getting around is easy.
The Strip is a section of Las Vegas Boulevard that runs North-South, right in the center of the city. Some hotel-casinos are built close enough to be considered "On-Strip," even if they are a couple of blocks away. All that a first-time traveller needs to know is that (almost) everything happens on the Strip. Just walk North or South and you'll find what you're looking for.
Bring some really comfortable shoes. If it is your first time to Las Vegas, you will find yourself spotting something famous down the street and deciding to walk to it. It's farther than you think it is. Buildings here are deceptively huge. Even if you decide to rent a limo, book a room by the elevator, and valet park, you'll still be walking for miles within the hotels and casinos themselves. In the summer, get some really comfortable flip-flops, or you'll feel like your feet are going to melt off your body.
Taxis are not allowed to stop traffic to pick up guests directly from the Strip. It's not a big deal, you'll always be right next to a hotel with a taxi stand. Let them get you a cab.
The Deuce is a double-decker bus that runs up and down the Strip every 12 minutes during peak hours, and every 30 minutes throughout the night. It costs $7 for an all-day pass, and $3 for a two-hour pass. It's an interesting way to travel... cheap, air conditioned, with a good view from the top. But it gets very crowded, and travels very slowly. During the most congested hours, you will see tourists on foot outdistancing you.
Free trams: If you're next to any of these resorts, take advantage of the free trams that they operate. Mandalay Bay - Luxor - Excalibur, or Monte Carlo - City Center - Bellagio. All of these resorts and both free trams are on the West side of the Strip, and will provide you with a quick, cool, and comfortable ride.
4. Parking is free
just about anywhere. Some exeptions to the rule exist downtown, where certain office and government buildings will try to take you money for a parking spot, and certain casinos will require validation or not let you in the garage at all. But, for the most part, every single casino all across the valley has abundant, multi-level, free parking.
Almost every casino has a free self-parking lot.
Almost every casino offers free valet service. But remember to tip.
A standard tip for valet service is two or three dollars and up.
5. The movie theaters and bowling alleys are in casinos.
With some exceptions, such as Rave Motion Pictures at Town Square and the venerable Cinemadome in Henderson, the best movie theaters are in casinos. When you're looking for showtimes online, the name of the theater will usually be listed. Ignore that. Just find out what casino it's in and how to get there. It's the same with bowling alleys. Forget the name of the bowling alley itself, and find the casino. This will help you find the right place, without driving around the block endlessly hunting for a sign that says "Regal Cinema 18" or something similar.