Share on Facebook
Hundreds line up to welcome Henderson area's fifth CostcoPosted By Mike Young - 11/10/18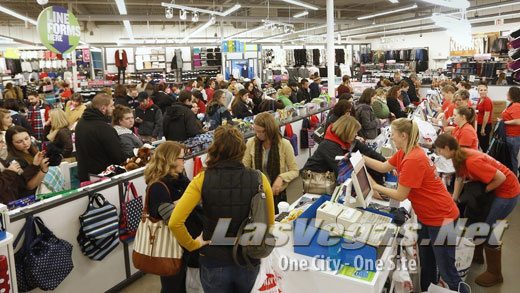 "Finally", a sentiment shared collectively among the Henderson community everywhere! Wholesale shoppers have a brand-new convenient place to purchase groceries, electronics, clothing, furniture, and household items.
The new Costco opened their doors on November 8, 2018 located near St. Rose Parkway and Amigo Street, just north of the Henderson Executive Airport.
Mayor Debra March joined several members of the Henderson Chamber of Commerce to hold a ribbon-cutting ceremony to welcome Costco into the Community. They stood proudly in front of the 148,000-square foot store as they cut the ribbon of the 5th Costco in Nevada.

Customers poured into the new Costco Wholesale Store in after lining up far into the parking lot for the grand opening. Costco is open to members only, with annual memberships starting at $60. Costco customers lined up far out into the parking lot.

The four already existing Costco locations are located in Henderson on Marks Street, Summerlin, Northwest Las Vegas and near downtown on Martin Luther King Boulevard. Customers love that they won't have to drive across town any more.

The 148,000-square-foot store features a food court, an optical department, a photo center, a tire center, electrical department, and a gas station, among other offerings typical of Costco stores. While perusing the isles, you may also bump into a Vintage Convertible Electric Golf Cart with comfortable Bolstered Seating and Marine Grade Upholstery. This Rolls Royce Golf of Carts while NOT BEING street legal also features an under hood beverage cooler, Stereo System w/Kicker Speakers and custom commercial grade all aluminum I-beam chassis boasting an 800-1500 Ib payload capacity. https://www.costco.com/Streetrod-Vintage-Convertible-2-4-Passenger-Electric-Golf-Cart-.product.100455143.html

Warehouse Manager Matt, Freitas said, "We are thrilled to be bringing Costco's low warehouse prices to the residents of SW Henderson," he continued, "They have been asking us to open here for a long time, and we already have made an impact on the local job market. We look forward to contributing to the community in many ways."

There are many projects in various stages going on along the stretch of St. Rose Parkway. Now that Costco is finished, other exciting retail commercial projects are in in development on the multi-use block. The Raiders team headquarters and training facility is one of the projects that are planned for the area!

So, Henderson residents come on, check out your local Costco. Bring your family, grab a cart and cruise around the 148,000 square foot warehouse, taste the free samples and enjoy your day!