Share on Facebook
The newest hottest gadgets revealed at CES Las VegasPosted By Kimberli Itah - 01/11/16


CES Las Vegas 2016
The newest hottest gadgets revealed at CES Las Vegas
The Lovable Robot Dog
CHiP is affectionate, loyal and best of all trainable. This best friend simulates a real dog by feeling hungry, needing attention,and wanting playtime. You wear a smartband that allows CHiP to exclusively recognize you.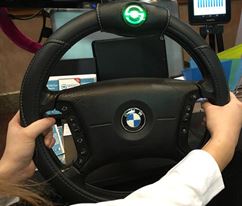 A SMARTwheel
The world's first intelligent steering wheel cover, which helps prevent unfocused driving. Snap, track and drive. It works by snapping in your steering wheel with no plugs, or wires. You are able to track with the smartphone app. The app stores data about your trips with user friendly charts and graphs. SMARTwheel also has Bluetooth ability with phones and other smart devices.
Big Screens TV's
Crazy curves, 4k, 8k and world's largest 170" TV, are what CES 2016 brought us. This year'sConvention was all about TV's. LG's curved dual-sided OLED video wall or the LG UH9800 98" 8K, or wait, maybe you'll want to drive your G6 home to watch your G6 OLED, LG 77" flat screen TV. Let's not forget the LG Rollable OLED TV Screen is a TV Screen you can roll up, amazing! The display itself is paper thin and the ability to roll it up and put it in your backpack to take it everywhere with you is exciting! Missing your shows is a thing of the past.